Calowear test (calotte grinding method)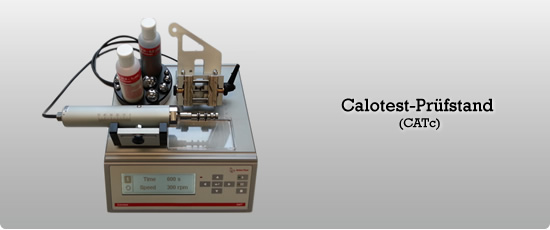 The Calotest test stand (CATc) from Anton Paar is used for the rapid determination of coating thicknesses. The CATc is a widely used measurement method for coating thickness determination in the range between 0.1 and 50 µm.
The simple calotte grinding process provides fast and precise measurement results for any coatings, regardless of coating thickness or coating type (single or multilayer systems). Typical applications are measurements of CVD, PVD and coatings, anodic oxide films, chemical or electrodeposition, polymers, paints and coatings.
| | |
| --- | --- |
| Parameter | |
| Speed | 10 min-1 – 3000 min-1 |
| Grinding time ranges | 1 s – 10,000 s clockwise, counterclockwise |
| Grinding direction of rotation | clockwise, counterclockwise |
| Standard ball diameter | 10, 15, 20, 25.4, 30 mm |
| Diamond suspensions | Superfine 0 – 0.2 µm, Hi-Quality 0.5 – 1µm |
| International standards | DIN EN ISO 1071-2, VDI 3198 |