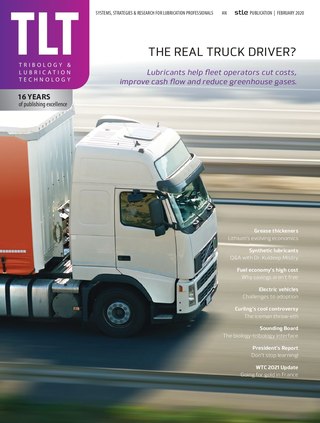 Dr. Markus Grebe, laboratory manager at Mannheim University of Applied Sciences' Tribology Competence Center, has been appointed Technical Editor 2022 for TLT magazine, published by the American Society of Tribologists and Lubrication Engineers (STLE), effective Jan. 1, 2022.
According to publisher and editor-in-chief Rachel Fowler, numerous highly qualified individuals had applied for the vacancies. According to Ms. Fowler, the decision to go with Dr. Grebe was based on his high level of technical knowledge, years of experience and reputation in the lubricants industry.
The STLE was founded in 1944 as the American Society of Lubrication Engineers (ASLE) and is now one of the world's largest associations dedicated exclusively to advancing the field of tribology. STLE currently has over 13,000 members.
The magazine "TLT – Tribology & Lubrication Technology" is the official monthly technical journal of the American STLE. The journal aims to support the technical education and professional development of STLE members and industry colleagues. Through its print and digital editions, TLT delivers premium technical content to approximately 15,000 lubrication professionals each month. Each issue includes articles, best practice analysis, industry surveys, interviews with leading lubrication professionals, reports on new technologies, lubrication fundamentals and much more.